The natural shoreline gives "north woods" feeling that defined ultimately more about a feeling than a physical location that contained a large amounts of evergreen trees. Its inclined a boat passage between the Upper & Lower Nemahbin Lakes.
Upper Nemahbin Lake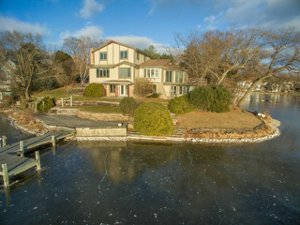 Upper Nemahbin lake is a wonderful place to raise a family, share with friends, and to stay when you reached the normal age of leaving employment. Upper Nemahbin Lake is a 277 acres lake located in Waukesha County with a maximum depth of 60 feet that connects to Lower Neshotah & Lower Nemahbin Lake. The Upper Nemahbin lake runs from Native American Indians to early settlers. Exceptional in Bluegill, Large & Smallmouth Bass, Walleye, Northern Pike and Crappie.
Upper Nemahbin Lake progress or quality of the lake over a period of time has been observed and checked by volunteers since 1986 and their commitment is greatly rewarding. They used to measure water transparency using a black and white Secchi disk. Some also collect water samples and be analyzed. Upper Nemahbin Lake Management District was formed in 1991 have never known another home. Homeowners do love Upper Nemahbin, everything about living there. You can find residents swimming, boating, exploring and generally enjoying.
Lower Nemahbin Lake
Lower Nemahbin Lake is a great lake for fishing, recreation and to live on. This 239 acres lake situated in Waukesha County with a maximum depth of 36 feet is located in the Village of Summit. It is close to the cities of Oconomowoc and Delafield. The lake is allowing everyone to see the beauty of its natural attributes. The shorelines and sand bar, the lake has healthy walleye, N. Pike, Large Mouth Bass and pan fish.
They created a group of people with joint purpose to organize and keep the lake safe from harm. To increase the water quality, fishery, boating safety, and appreciation of beauty of Lower Nemahbin Lake as a public recreational amenity for now and for future generations.
The distinctive features of the lake are the large Sugar Island, positioned in the NW area of the lake and the way out of the Bark River from the western side of the lake, which enters via the neighbor Upper Nemahbin Lake.